On a chilly November day MountainSister3, Nimblefoot and I bushwhacked Olderbark Mountain and Plateau from the southern end of the Mink Hollow Trail. When we arrived at the trailhead parking there were a couple of other vehicles present, perhaps belonging to hunters.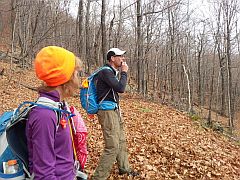 We followed the trail for just a short distance from the parking area. A little past the "dollhouse" (the guest house on the private parcel on Mink Hollow) and before the significant creek crossing we turned left off of the trail. We had discussed heading for the col between Olderbark and the first sub-summit on the ridge south of Plateau, but elected a bearing more or less directly towards the Olderbark summit, perhaps missing a little to the north.
The terrain was fairly easy at first, but then gets very steep. There are a number of small creeks and the lower half of Olderbark seems to be crisscrossed by a number of woods roads including one that starts right behind the parking area.
We were climbing steeply on leaf covered loose shale and noticed a deer checking us out from higher up on one of the woods roads. Suddenly it took off and sprinted a long way to our right as if it was being chased until it was out of site. Perhaps a hunter we thought. Upon climbing to one of the woods roads we followed it higher to the left for a while to see if it would switch back right. It did, but we soon left it and went back to following our compass bearing.
As we climbed we noticed numerous partial but interesting views of the south side of the eastern DP and other points east. Overlook Mountain and its towers are clearly visible from a number of spots.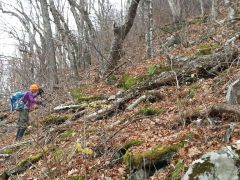 Rather than finding an extensive area of cliffs and ledges that I had been expecting, there was mostly just very steep terrain with uncertain footing due to the newly fallen leaves that covered rocks and holes and other forms of mountain trickery. There were some ledges and a couple of areas that required a little scrambling.
On one of the ledges ms3 grabbed a large loose boulder and they both went tumbling. She pushed herself away from the boulder as they fell and broke her fall somewhat elegantly (relatively speaking) against a tree, while the boulder, about the size of a large suit case became airborne and then bounced a few times before sliding to a halt on its flat side. Scary, but there were no injuries and it is a good reminder of why you don't follow right behind one another on the steep stuff.
I elected to scramble up a ledge that I could have skirted around. It was interesting and a little dicey. I'm not sure if that was a good or a bad thing to do but it was fun.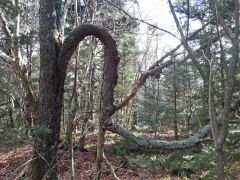 The going got very thick in evergreens toward the ridgeline, and then thinned out a bit along with the abrupt easing of the slope. On the ridge we turned on the GPS just to see how far we were from the spot identified as the summit on the map. We were practically right on top of it. We wandered around a bit looking for higher spots, but Olderbark really has a quintessentially flat Catskill summit. The conifers on the top are uncharacteristically widely spaced with room for camping (and it is below 3500 feet by just a little). We had lunch and MS3's awesome oatmeal raspberry bars and agreed on our approach for Plateau…basically curving around to stay on the higher ground until we hit the sub summit just northeast of Olderbark, then mostly north right up the ridge to Plateau.
Coming off of Olderbark, we started a little too far right as evidenced by the steep drop-off on our right but corrected nicely and pretty much followed the arc that we wanted to closer to the center of the ridge. A check of the GPS confirmed that we had strayed right, but we already knew that. We were primarily navigating by using the compass in conjunction with trying to read the lay of the land (which is much more fun than going where the device tells you to go) and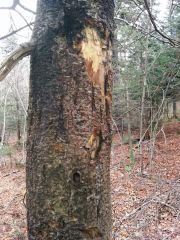 Nimblefoot's finely honed internal compass. The section from the Olderbark summit through the col and up much of the ridgeline to Plateau has a very noticeable network of herd paths (as in paths used by deer and other critters). We followed them for quite a bit where they aligned with our direction of travel.
There is a presumably large bear wandering around near the Olderbark summit as evidenced by the large piles of scat and deep claw marks high up on one of the trees. There was enough sign that it almost felt like we were tracking it, although we were not particularly interested in meeting the bear. We also got very close to a large snowshoe hare before scaring him out and watching him bound away. He already has most of his winter white coat with a few patches of brown fur left. On a side note, large and out of place looking white rocks that turn out to be soft to the touch probably are not rocks. Hypothetically speaking, of course.
PLATEAU MOUNTAIN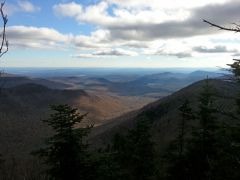 The south ridge of Plateau for the most part isn't a difficult whack. We stayed close to the right (east) side of the ridgeline where it almost felt like a trail at times and added a couple of side trips looking for ledges with views. We found one rock to scramble out on with a decent view back towards Olderbark and of Mink Hollow looking down towards Lake Hill (Coopers Lake) and all the way to Skytop and beyond.
Shortly after that we started to encounter conifers and hit a significant ledge that required a bit of scrambling. For the first time we noticed that the sky had cleared to a deep blue. Despite the rock being typical Catskill sedimentary layer cake, looking up at the ledge reminded me of some places we've been to recently in the Adirondacks. On top of that ledge were similar but more open views than those that we had seen a little earlier. After that the terrain flattened and the conifers got very thick. We spent about 15 minutes pushing through the branches, and passed through a small area that had a dusting of snow on the ground.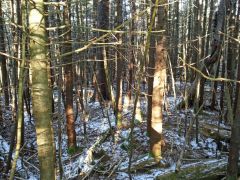 Soon we heard loud voices and came upon a couple of men standing on the trail right at the summit of Plateau. They were initially perplexed at where we had come from but then exclaimed, "ah, BushyWhack". They were the first people that we had seen all day. We stopped for a snack and saw a bunch of other people hike by including one fellow walking purposefully by himself wearing a CPO coat and holding a half empty 16 ounce plastic bottle of spring water. With no backpack and normal street clothes and seeming quite at ease with his travel as he headed west into the long flat summit walk on Plateau he looked to me as if he was just walking to the bus stop.
From the summit of Plateau we returned to the cars via trail on the Devils Path and southern Mink Hollow trails. The southern Mink Hollow Trail alternated between pleasant gentle sloped road and steeper badly eroded road where fallen leaves concealed ankle rollers and other hazards. It was tougher on the feet than the bushwhacking had been, but is nonetheless a fast way down from Plateau. The crossing of the Beaver Kill near the bottom would have been difficult to rock hop if it weren't for a large blow down whose trunk spans the full width of the river just below the trail. It is a narrow river bed at that location and easy to imagine why various maps and books warn about dangers during high water. We reached the cars a short time later with still a few minutes to spare before sunset